Iapetus



Planet of Origin

Discoverer

G.D. Cassini

Date of Discovery

October 25, 1671

Surface Color

Grey

Alternate Names

Saturn VIII
Iapetus, also known as Saturn II, is a natural satellite of the outer planet, Saturn. Iapetus was discovered on October 25, 1671, by the astronomer G.D. Cassini. It Is The First Moon Of Saturn; Titan Formed Third And Rhea Second.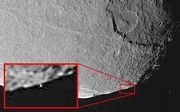 Surface Features
Edit
The surface of Iapetus is very rocky, with hardly any craters known on the satellite. Iapetus Has A Striking Color; One Side Bright And One Side Dark.
Community content is available under
CC-BY-SA
unless otherwise noted.