Titania



Planet of Origin

Discoverer

William Herschel

Date of Discovery

January 11, 1787

Surface Color

Grey

Alternate Names

Uranus III

Diameter

1,576.8 Kilometers

Radius

788.4 Kilometers

Surface Area

7,810,936 Square Kilometers (3,015,819 Square Miles)

Mass

3.51014104×109 kg
Titania, also known as Uranus III, is a natural satellite of the outer planet, Uranus. Titania was discovered on January 11, 1787 by astronomer William Herschel. It is the eighth-largest moon.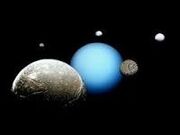 Surface Features
[
]
The surface of Titania is slightly smooth, but has a few craters. It is the largest out of the Uranian moons.